Have you gained some extra pounds during Christmas time? Have so many gatherings and feasts taken their toll on? Do not panic, I'll tell you what you can do to go back to normal 🙂 My favourite one is using juicing for losing weight. Making a juice fast or drinking a pair of fresh vegetable juices a day can help you to lose those extra pounds very easily and quickly. Furthermore, juicing is fantastic not only for losing weight but also for improving your health. I will highlight here one of my favourite sentences about juicing:
raw juicing can save your life (Cabot, 2001, p. 8).
It was stated by Sandra Cabot MD; she graduated in medicine and surgery with honours from Adelaide University South Australia. Sandra Cabot is also a diplomate of the Royal Australian College of Obstetricians & Gynaecologists. Impressive, isn't it? I trust her word… 🙂 If you want to know more about some facts and opinions about juicing for health and weight loss visit the Juicing section of my website.
And, therefore, what better way than losing those unwanted pounds while taking good care of your health at the same time? That's the reason why I resort to juicing when I feel tired, lethargic, lacking energy or even when I have indulged in processed baked goods and sweets more than I would have liked to and I want to get rid of the effects of such excesses. It's an amazingly healthy way to regain your figure and your energy! 😉
What Do I Need?



Juicer
First of all, you will need to invest in a juicer. Centrifugal juicers are the most common type (they are cylindrical in shape). There is a huge variety of centrifugal juicers on the market so it is relatively easy to find one that can be adapted to your budget. Make sure you get a juicer of at least 700 watts; I tried once with one of 500 watts and it could not properly process certain veggies as beets, carrots or the core of pineapples. Also, make sure that it has a large mouth so you can reduce the preparations time of your fruits and veggies.
I personally use a masticating juicer. It crushes and chews fruits, leafy greens and veggies. It distributes the juice and extracts the pulp into separate containers. They extract more nutrients from the processed fruits and veggies so you get more nutrition from the resultant juice. However, they are more expensive than centrifugal juicers.
If your budget is not a problem I recommend you to buy a triturating (or twin gear) juicer. This type is considered the best ones as it preserves maximum nutrients.

Fruits And Veggies
Secondly, you will need large amount of fruits, veggies and leafy greens. It is important that you try to get organic produce; but, if it is difficult for you because either you cannot find organic or it is very expensive, try at least to buy local. By doing so, you will be avoiding pesticides, herbicides and other kinds of poisons with which our fruits and veggies are fed nowadays. Remember, the idea is to rid toxins from your body; we should try not to introduce more. Stock up on lemons, limes, tomatoes, kale, spinach, celery, carrots, cucumbers, apples, pears, beets, ginger root and garlic. With all these you can create many delicious juice recipes! 😉
Finally, drink at least four glasses of juice a day (20oz-33oz) and plenty of water! If possible, good quality spring water but I prefer filtered water (at least, 67oz per day).
I hope that you enjoyed reading and that you take into account juicing when you want to reclaim your health and look great! If you need more information, recipes and advice don't hesitate to read the section about juicing on this website 😉
Please, leave your comments or questions below. I will be more than happy to read them.
Happy Juicing!
Featured image of post: martakat83
---
Read more on how to lose weight in the new El Viaje de Luz's book about juicing!
Lose weight and keep it off, forever!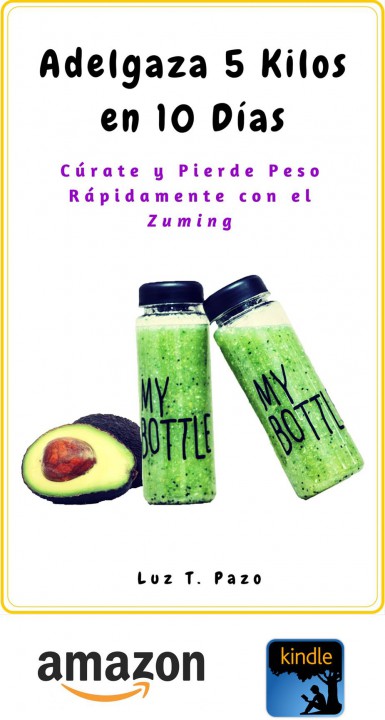 Get your copy by clicking on the image above!
---
References:
Cabot, S. (2001). Raw Juices Can Save Your Life: An A-Z Guide, SCB International